| | | | | | | |
| --- | --- | --- | --- | --- | --- | --- |
| BaronSat's Lego News Blog. | | | | | | |

The Though Team.
December 2006.
Here is a serie of models whose design started 3 years ago. "Then why are they on line only today?" you will say to me. In fact, I have no idea and this is why I give all the details on the page dedicated to the "Tough Team"... Click on the image and you will know all.
La Though Team.
Décembre 2006
Voilà une série de modèles dont la conception a commencé il y a 3 ans. "Alors pourquoi ne sont-ils en ligne qu'aujourd'hui?" me direz-vous. En fait, je n'en ai pas la moindre idée et c'est pour ça que je donne tous les détails sur la page dédiée à la Tough Team.. Cliquez sur l'image et vous saurez tout.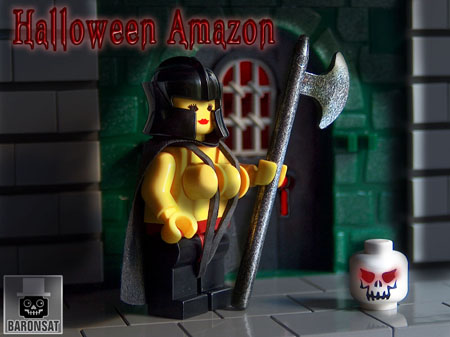 Halloween.
November 2006.
My competitor, the amazon of Halloween win the contest in the category "Most original minifigure". With the advertisement of this result winners declared: "I am very happy, I make a point of thanking all my fans and my costumer... now move or I cut your neck". On my side I say thanks to Eurobricks Eurobricks and congratulations to all the competitors.
Halloween.
Novembre 2006.
"Ma concurrente, l'amazone d'Halloween a remporté le concours dans la catégorie "Figurine la plus originale". A l'annonce de ce résultat la gagnante a déclaré : " Je suis très contente, je tiens à remercier tous mes fans et mon costumier... maintenant circulez ou je vous tranche la tête". De mon côté je dis merci à Eurobricks et bravo à tous les participants.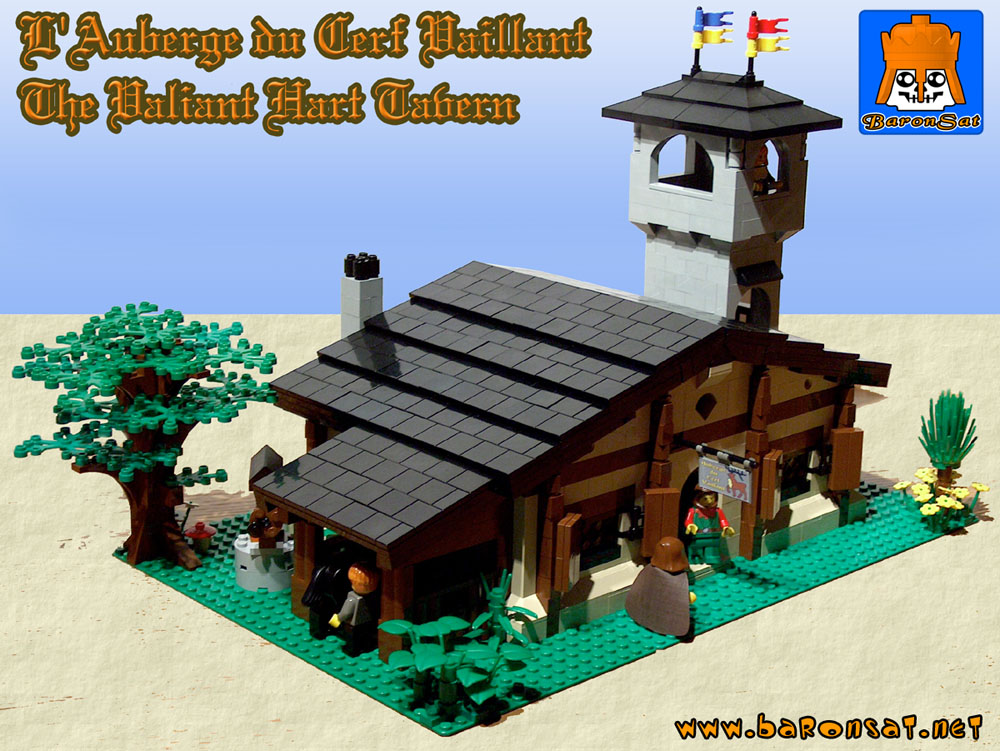 Castle.
October 2006.
Instructions for the Valiant Hart tavern are available to the sale.
Moyen-Age.
Octobre 2006.
Les instructions pour la taverne du Cerf Vaillant sont disponible à la vente.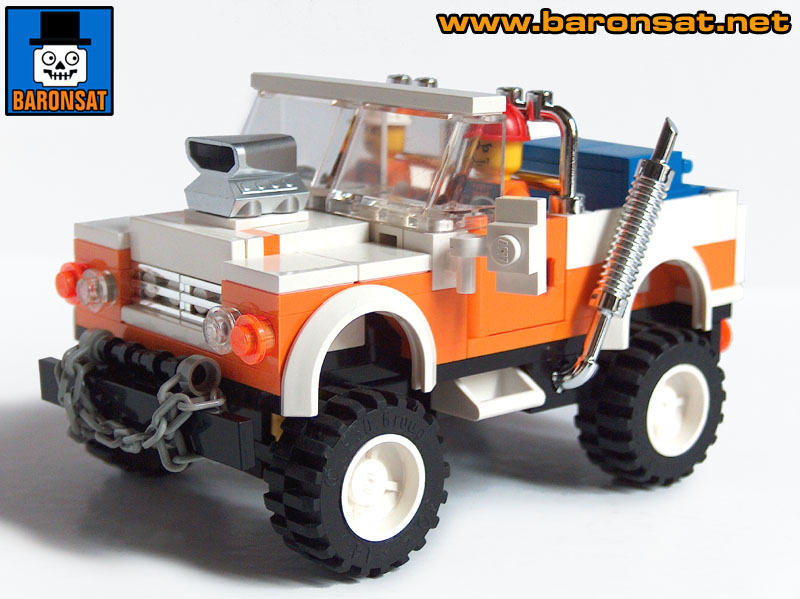 4x4 of every kind.
September 2006.
When I had put on line the camper of (see 05/14/06) I had promised that I would publish also the model of car which had been used as a basis and well here it is done. As long as I was there I also made a page for the black version of this same vehicle.
Des 4x4 de toute sortes.
September 2006.
Quand j'avais mis en ligne le modèle du "camper" (voir le 14/05/06) j'avais promis que je publierais aussi le MOC qui avait servi de base et bien voilà c'est fait. Tant que j'y étais j'ai aussi fait une page pour la version noire de ce même véhicule.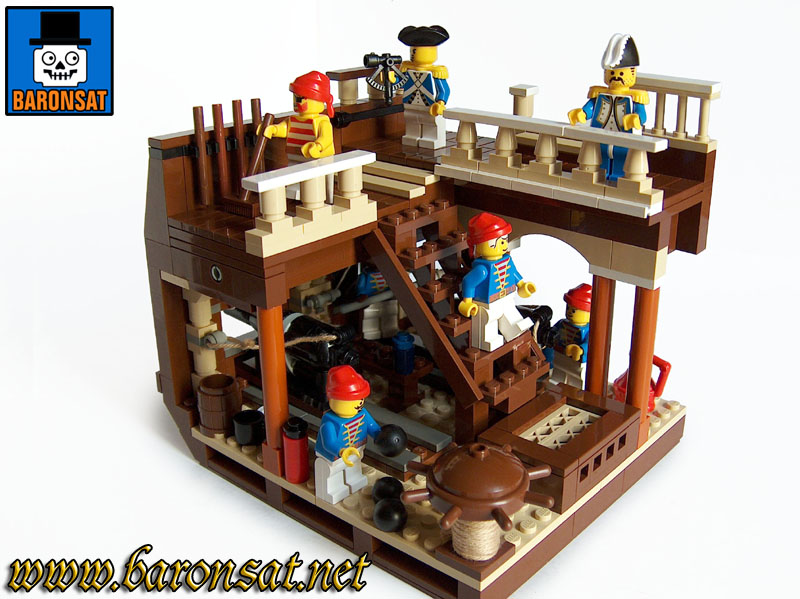 Préparez les canons.
Septembre 2006.
Un nouveau modèle, une grande vignette ou un petit diorama d'un vaisseau de guerre de la période des pirates. Ohé matelot! Clique sur l'icône à tribord... tiens, c'est curieux, j'ai l'impression de l'avoir déjà dit ça???
Set up the cannons.
September 2006.
A new MOC, a large vignette or a small diorama of a war ship from the pirates era. Ahoy mate! Clic on the icon to starboard... I have a feeling of "deja vu"???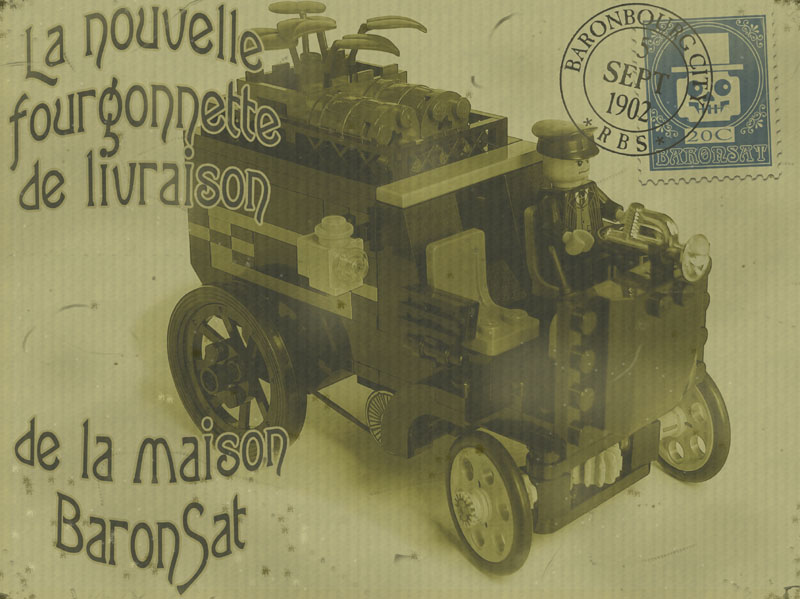 Old new model.
September 2006.
Of course it's a new model but it's based on an old vehicle : a 1902 delivery van. Ok, you don't have to stay here longer, details are on the page, just clic and vroom!
Nouveau modèle ancien.
Septembre 2006.
Il s'agit bien d'un nouveau modèle, simplement il représente un véhicule ancien : une camionnette de livraison de 1902. Je ne vous retiens pas plus longtemps, les détails sont sur la page, cliquez et vroum!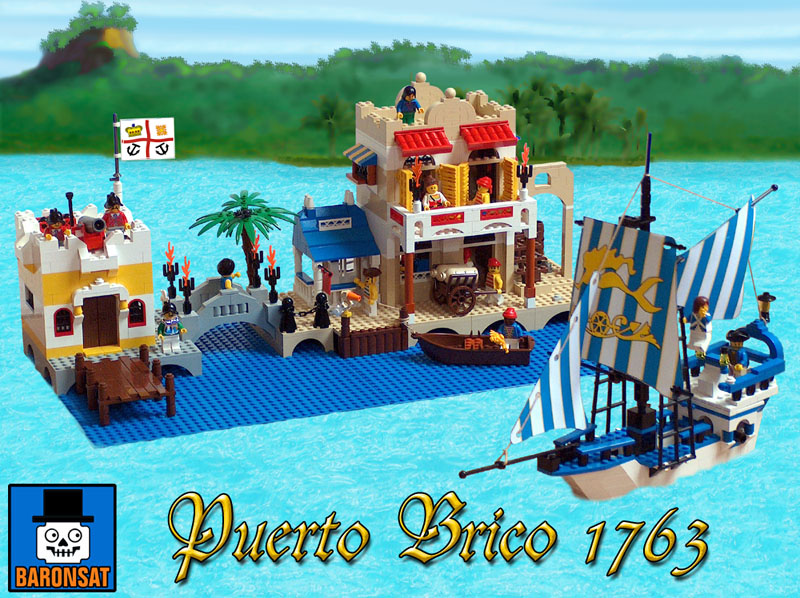 New model.
09/01/2006
Castle and Space are great themes but I wanted something different this time, so I tried the Pirates. Yes, I must admit it's very difficult to resist to the "Pirates of the Carribean" phenomenon... and I couldn't.
Nouveau modèle.
01/09/2006
Pour changer un peu de l'Espace ou des Chateaux, voici un nouveau modèle sur le thème des Pirates. J'admets, c'est vraiment très difficile de résister à la déferlante de "Pirates des Caraïbes"... d'ailleurs, j'ai pas pu.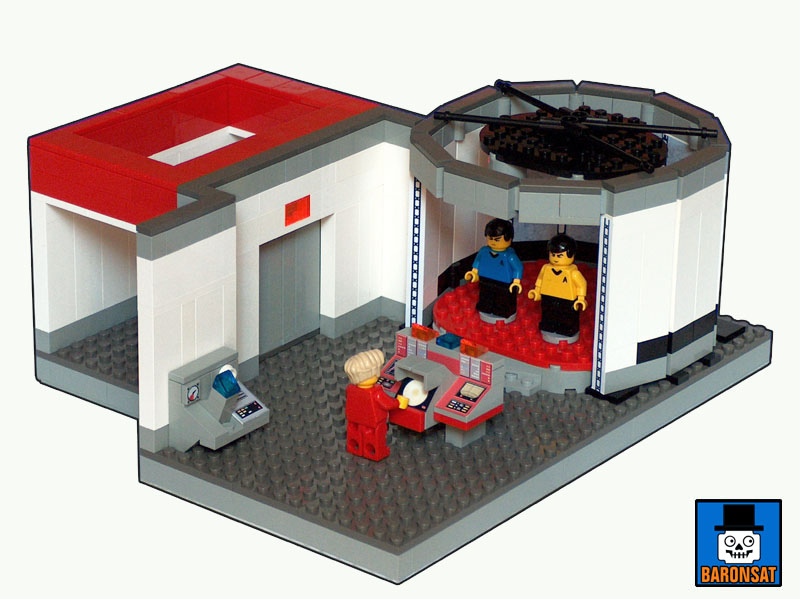 New model.
07/24/2006
Are you tired of traffic jams? So try the teleportation, fast, easy and with only a very few risks... Go to the transporter room where you'll find all informations, just clic on the picture.
Nouveau modèle.
24/07/2006
Les embouteillages vous ennuient? Alors optez pour la téléportation, rapide, facile et presque sans risque... Rendez-vous en salle de téléportation où vous trouverez toutes les infos en cliquant sur l'image.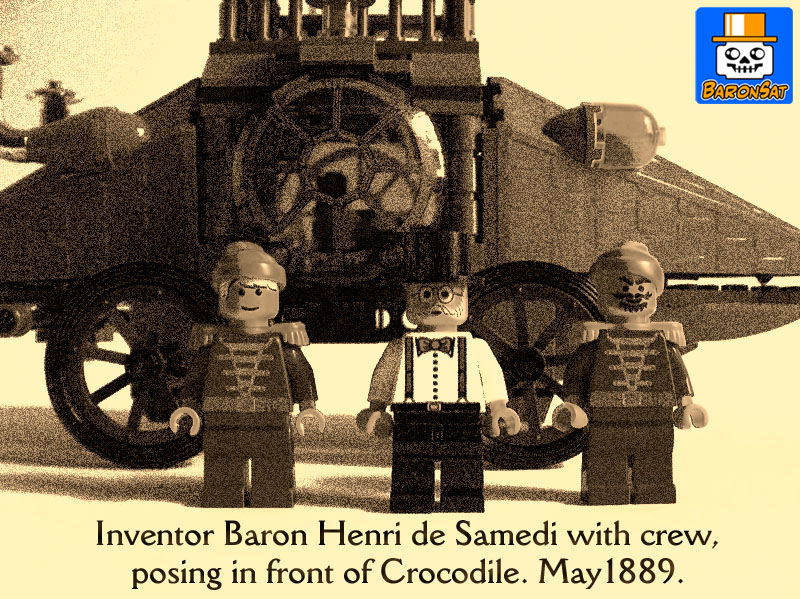 Crocodile.
05/31/06
Not the kind you can see in Tarzan's movies, carriers won't be eaten this time! You know where to clic...
Crocodile.
31/05/06
Pas du genre de ceux qu'on trouve dans les films de Tarzan, ici les porteurs ne risquent pas de se faire dévorer! Vous savez où cliquer...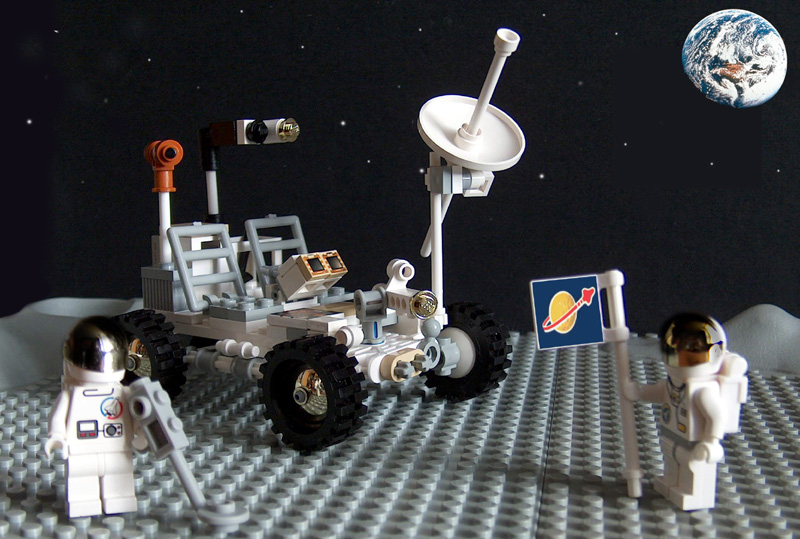 Walking on the moon*.
05/30/06
You don't have to call the Police*, just clic on the icon on the right.
* A joke as much as old as the subject you'll fing on the linked page.
Walking on the moon*.
30/05/06
Inutile d'appeler la Police*, contentez-vous de cliquer sur l'icône à droite.
* Une blague presque aussi vieille que le sujet traité sur la page que vous allez visiter.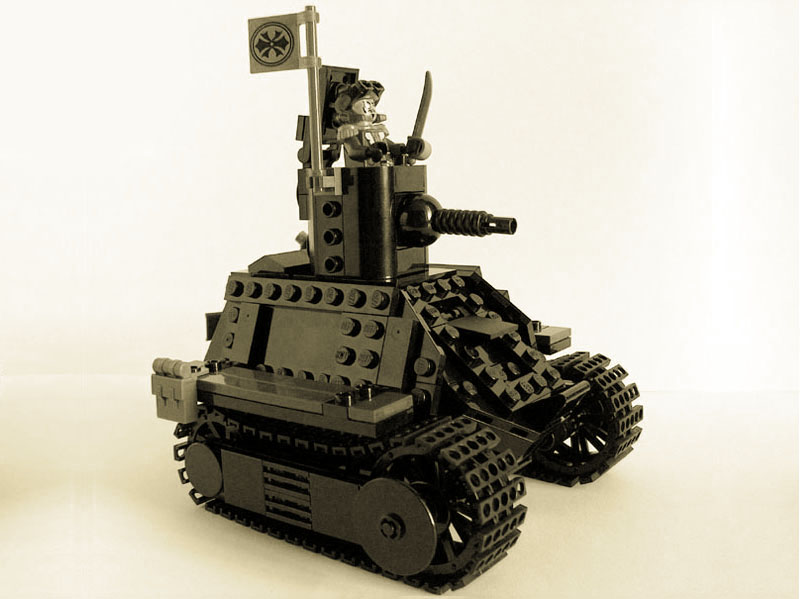 WW1 Tank.
05/16/06
A military model this time, inspired by a WW1 tank. Find it in the gallery or clic on the photo.
Tank 14-18
16/05/06
Un modèle militaire cette fois et inspiré d'un tank de la première guerre mondiale. Retrouvez-le dans la galerie ou sur sa page en cliquant sur l'image.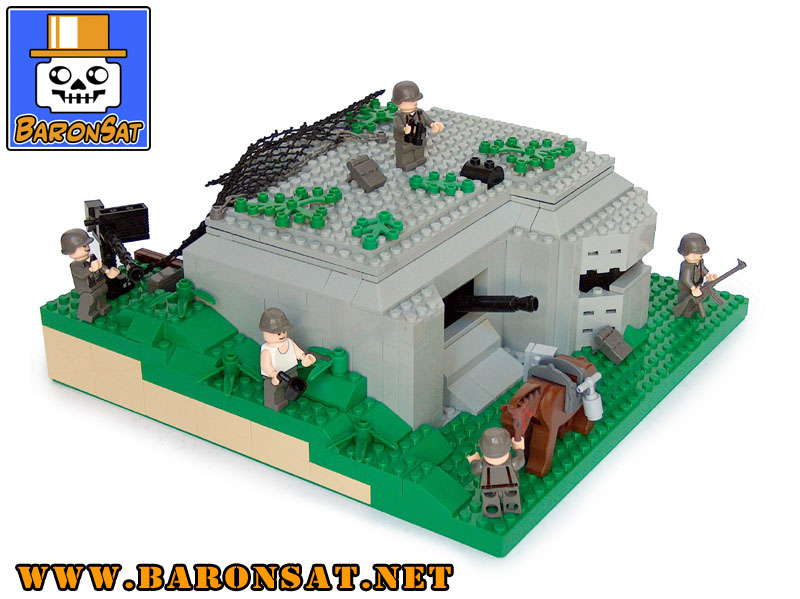 About the bunker set.
04/22/06
Another episode in the bunker set story. A famous customizer is working on the accessories that are necessary for this set. His talent will certainly lead him to a great work BUT there's still some technological and economic problems. So, will we one day see this set ready for sale? If you want to know the answer don't miss the next episode: "Revenge of the return of the doomed bunker", coming soon.
A propos du set Bunker.
22/04/06
Encore un rebondissement dans l'histoire du set du bunker. Un customiser bien connu travaille en ce moment sur les fameux accessoires qui faisaient défaut à ce set. Etant donné son talent le résultat devrait être à la hauteur de mes espoirs, MAIS d'autres embûches existent encore, notamment des contraintes technologiques et économiques. Alors verrons-nous un jour ce set prêt pour la vente? Pour le savoir, ne manquez pas le prochain épisode: "le Retour de la revanche du bunker maudit", bientôt sur vos écrans d'ordi.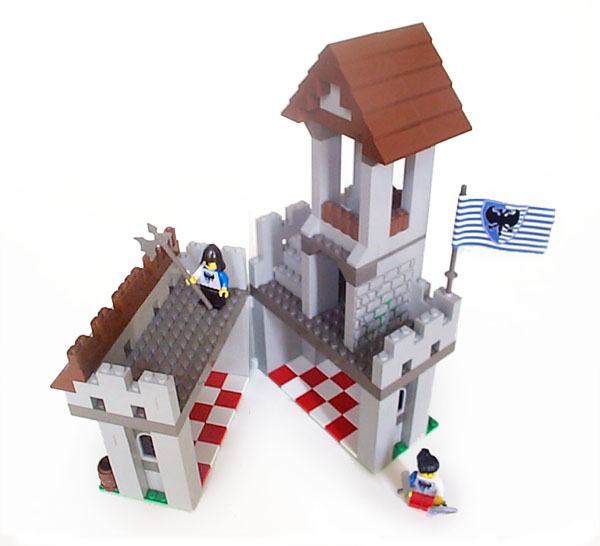 The Watchtower.
02/14/2006
The set number 1 : "The Watchtower" is no more available for sale. I'm out of stock for the rare parts used in it so you can't order this model anymore. But the instructions are still available. No problemo!
La Tour de guet.
14/02/2006
Le set numéro 1 :" La Tour de Guet" ne sera plus disponible à la vente. Etant en rupture de stock sur certaines pièces rares qui le composait, je ne peux plus proposer ce modèle. Par contre les instructions sont toujours disponibles. No problemo!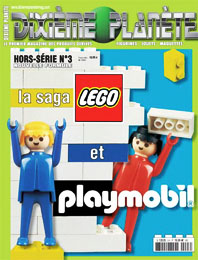 Phew!
02/10/2006
The special issue of the french magazine "Dixieme Planete" is now on sale. Find more informations and links to order it, plus some pics of the Babarian robot instructions click on the picture.
Et voilà!
10/02/2006
Ca y est, le numéro Hors-Série du magazine" Dixième Planète" est paru, il s'agit d'un spécial Lego & Playmobil. Trouvez plus d'infos, et quelques images de la notice du Robot Barbare cliquez sur l'image. Et qu'est-ce qu'on dit, "Merci DP"!
P.S. : "DP" n'est pas un "proder", c'est juste les initiales du nom du magazine, bande de béotiens va.