Réservez le nouveau set.
12/08/04
D'accord, je l'admets ça a pris un peu plus de temps que prévu, mais c'est les vacances après tout! En tout cas ça y est, vous pouvez maintenant réserver votre set des musiciens du Palais. Etant donné la rareté de certaines pièces il n'y en aura pas plus de 5, aussi ne tardez pas. A noter une innovation (pour moi en tout cas) ces modèles sont vendus en boite, non montés et avec les instructions. Au passage un grand merci à JAC qui a réalisé avec brio (qui c'est celui là) ces notices de montage.
Order the new set.
08/12/04
Ok, it took me longer than I previewed to put this set on sale, but it's holiday time... Anyway, now it's ok and you can order your "Palace's Band" set. Because of some rare parts, there will be absolutely no more than 5 for sale.
Something new for these models, they are sold unbuild with instructions and a custom box. BTW I wanted to thanks JAC for his excellent work on the instructions.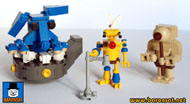 Debriefing..
05/07/04
Et bien, comment dire... l'enchère pour le Tie Bomber a été... instructive! Bref, il n'a pas été vendu, aussi il est possible que je le remette en vente sur EBay USA cette fois.
A moins que j'ai besoin d'un gros stock de pièces grises et que je le démonte... bon on verra ça plus tard.
Debriefing
07/05/04
Well, what can I say... the auction for the Tie Bomber was... intructive! Anyway because it ddin't sale it's possible I put it again onsale on Ebay USA, this time.
Excepted if I need a large quantity of gray parts and unbuild it... we'll see that later.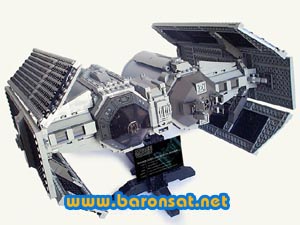 Enchère de la Barge de Jabba...
05/05/04
Je tenais à remercier tous ceux qui sont passés, ont enchéri sur la Barge ou m'ont contacté. Et bien sur, tous ceux qui ont fait ma promo et ont parlé de cette enchère. Merci à tous et à bientôt.
Un merci tout particulier au site FBTB.
Note : Les images de la Barge ont été déplacées de la page "Enchères" à la page "Shop".
Jabba's Barge auction
05/05/04
I wanted to thanks all the people who came to see, have placed a bid on my auction or have contacted me. And of course all the ones who have helped for this sale. Thanks to you all.
A special thanks to FBTB website.
Note : Pictures of the Barge have moved from "Auction" page to "Shop" page.